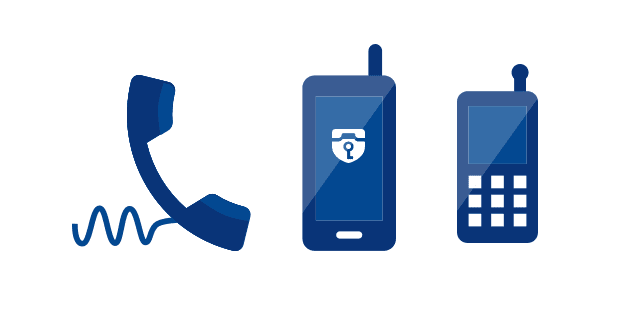 Legacy Devices
GSMK is committed to the long-term availability of service and support for solutions delivered to our customers. We continue to support the installed base of IP and circuit-switched data (CSD)-based products for mobile and fixed-line communication. As part of GSMK's lifecycle management services, you can continuously upgrade your GSMK CryptoPhone product to a newer product generation.

GSMK's lifecycle management services can provide you with upgrades that include software and hardware upgrades as well as migration concepts for customers migrating e.g. from a circuit-switched communications infrastructure to IP-based PBXes and networks. GSMK and its authorized distribution partners are there for you to ensure that you can maximize the lifetime of your existing GSMK CryptoPhone system, and that you can continuously upgrade it to keep up with changing requirements and the growth of your secure communications network. Please contact our team to discuss your specific needs with us.
Devices
The GSMK CryptoPhone PSTN/1i is a secure desktop phone that connects to the public switched telephone network. It features a standard analog PSTN/POTS interface with an RJ11/RJ13 plug and can also be connected to ISDN or IP networks with an optional adaptor. The PSTN/1i uses the same encryption engine as GSMK's secure mobile and satellite phones, featuring 256-bit AES and Twofish session encryption and a 4096-bit Diffie-Hellman key exchange, readout-hash based key authentication, and session keys that are newly generated for each call and destroyed after the call ends. The PSTN/1i can be switched from clear mode to secure mode and back, so that users can place clear and encrypted calls using the same telephone line.

GSM CSD (Circuit-Switched Data) legacy products are the alternative for secure calls on basic 2G GSM networks that do not provide Internet access at all. GSMK continues to ensure availability of secure communication technology for operation in basic GSM networks without access to the cellular Internet. The CryptoPhones G10i+ is a compact device for secure communication using Circuit Switched Data for the transport of encrypted voice calls. This device is a classic and lightweight secure phone in clamshell design.

The GSMK CryptoPhone 500i is an Android-based secure mobile phone with 360° mobile device security for secure messaging and voice over IP communication on any network. It is the predecessor model of the CP600. It features the patented first-generation GSMK Baseband Firewall and the same encryption algorithms as our fixed-line and satellite-based CryptoPhones, permitting secure calls and message exchange across network borders.

The GSMK CryptoPhone 600 is an Android-based secure mobile phone with 360° mobile device security for secure messaging and voice over IP communication on any network. It is the predecessor model of the CP700.

The GSMK CryptoPhone 450 is a rugged, message-centric secure IP mobile phone for global secure communication. Featuring a full QWERTY keyboard, the CP450 is a robust, MIL-STD 810G and IP42 compliant secure phone that is shock, water, dust and vibration resistant and offers global frequency coverage for GSM as well as 3.5G networks. Using any GSM, 3G/UMTS or WLAN network anywhere in the world, it offers secure voice and secure messaging across network borders as well as a hardened operating system and encrypted storage for your confidential contacts, messages and notes.

The CryptoPhone IP19 is a secure desktop phone with hardened operating system and end-to-end voice encryption. Field-proven all around the world, the CP IP19 has been the preferred choice of many governments and enterprises. The device is easy to use and a real plug-and-play product. The CryptoPhone IP19 found its place in a great many embassies, government departments, and worldwide branch offices.
Availability
Please contact us if you would like to discuss maintenance and support services for your CryptoPhone legacy fleet, your upgrade requirements, or if you wish to expand your existing CryptoPhone fleet.