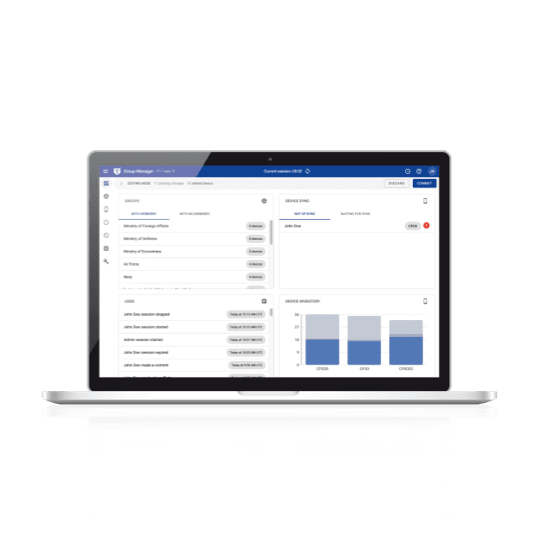 Group Manager
The CryptoPhone Group Manager provides centralized management of secure contacts and call groups for a private fleet of secure mobile and desktop devices. It allows administrators to compartmentalize an existing private infrastructure and set up closed user groups by defining individual signaling permissions in a way that reflects an organization's communication structures.

End users benefit from not having to enter any phone numbers manually, or having to keep track of other users changing their phones and/or their positions in the organization, which can be a huge paint point when deploying larger fleets. Contact names and numbers are automatically updated and synchronized across the entire fleet.

As an optional software solution with a browser-based frontend, the Group Manager is easy to use and runs in your private CryptoPhone infrastructure, hosted on your own CryptoPhone servers. It gives you 100% control and freedom to individually define how each user can access your organization's CryptoPhone communication system.
Features
Define a set of different groups and add CryptoPhone users to it. Groups can e.g. represent departments or roles in your organization. Individual group relationships control who is allowed to call whom, permitting the creation of closed user groups within an existing private CryptoPhone IP infrastructure.

Once changes to groups or contacts have been made in the Group Manager interface by an administrator, push the changes to all devices in your CryptoPhone ecosystem. This automatically keeps phone books on all devices up to date. Only the centrally managed and device-specific approved contacts can be called from a managed CryptoPhone device.

If for some reason a CryptoPhone needs to be removed from the private infrastructure, simply use the Group Manager's blocking capability. It removes devices from the CryptoPhone system and remotely blocks the usage of the device.

The Group Manager supports all current-generation mobile and fixed-line CryptoPhones, like the CP600G and the CP20, as well as selected older devices. In addition, complementary apps for Microsoft Windows®, Apple iOS® and Android® can also be integrated in the CryptoPhone ecosystem and the Group Manager, thus supporting the deployment of large mixed fleets of devices.
Private Infrastructure
Are you interested in deploying your own private CryptoPhone infrastructure, managed via the Group Manager? Just drop us a line to discuss your requirements.