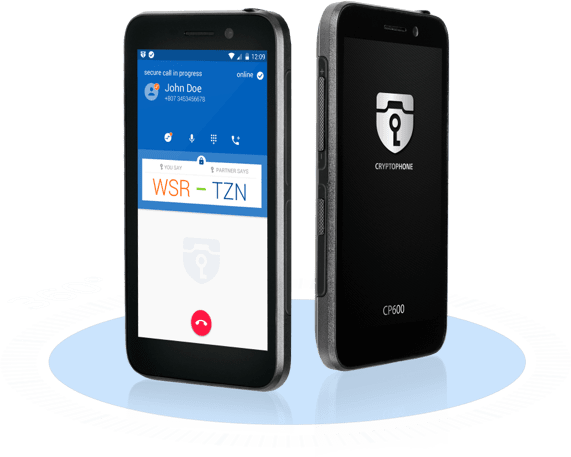 CryptoPhone 600G
The GSMK CryptoPhone 600G is a secure mobile phone with a hardened operating system and end-to-end voice and message encryption. It delivers unparalleled 360-degree protection on a tamper-resistant platform.

The unique and patented GSMK Baseband Firewall protects the phone against IMSI catchers and other rogue base stations, including protection against over-the-air malware injection. The hardware is sealed against humidity and dust, and comes with a multi-touch capacitive touchscreen that can be operated with gloves and in rain.

More details can be found in the CP600G brochure (PDF).
Features
The CP600G allows you to make secure end-to-end encrypted voice over IP calls on any network – 2G, 3G, 4G, or WiFi. The CP600G comes with the strongest and most secure algorithms available today, AES256 and Twofish. It features a 4096 bit Diffie-Hellman key exchange with SHA-256 hash function, readout-hash based key authentication, and completely autonomous key generation with no pre-installed key material. Voice encryption keys are securely and immediately erased from the device after each call.

Messaging is based on the same strong encryption algorithms used for GSMK CryptoPhone voice encryption – 4096 bit Diffie-Hellman initial key exchange, AES256 and Twofish message encryption with 256 bit keys.

Like all GSMK CryptoPhones, the CP600G features an encrypted storage container for contacts and messages that protects data at rest against unauthorized access.

The CP600G is equipped with patented GSMK Baseband Firewall technology for unique protection against over-the-air attacks with constant monitoring of baseband processor activity. The Baseband Firewall features baseband attack detection and initiation of countermeasures, automatic discovery of IMSI catchers and other rogue base stations, and detection of attempts to track user location via SS7 or silent SMS.

The secure Android OS is built from source code and offers granular security management and streamlined, security-optimized components and communication stacks. The CP600G features a seamless secure boot chain featuring secure boot, kernel, recovery, kernel object and APK signature keys. Runtime checks of core applications and services ensure that only signed and trusted code is loaded on the device.

Choose between configurable security profiles for different security requirements. The hardware module controller and permission enforcement module control access to network, data and sensors (camera, microphone, etc.), keeping you in control of your individual security policies.

The CP600G features a tamper-resistant, tamper-evident hardware design. This includes dedicated hardware security modules with CPU supervisor, watchdog timer, on-chip temperature sensor and removal-resistant coating. It features shield removal detection circuitry and Environmental Failure Protection (EFP) for temperature, voltage, internal clock frequency, and duty cycle provided by immediate reset circuitry. These components support the highest FIPS 140-2 and Common Criteria security level requirements.

The CP600G is ready for immediate use out of the box, with no need to install or configure anything. Set your password and immediately start to make and receive secure calls and exchange end-to-end encrypted messages with other CryptoPhone mobile or desktop phones. The CP600G can also be integrated into your organization's own private CryptoPhone infrastructure.
Order your CP600G today
Interested in a quote for the CP600G?