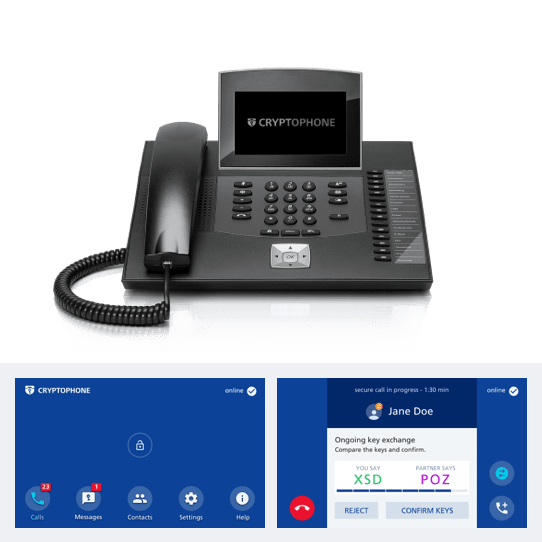 CP20
The CryptoPhone 20 is a secure desktop phone with end-to-end voice and message encryption. It features a hardened operating system to protect the device against attacks. The CP20 is fully compatible with the rest of the GSMK CryptoPhone ecosystem and can also be used as part of private on-premise CryptoPhone infrastructures.

With its modern, intuitive user interface and touchscreen navigation, the phone is a joy to use. It is the perfect next-generation device for secure communications in government departments, embassies, and enterprise headquarters.

Consult the CP20 product brochure (PDF) for more details.
Features
The CP20 gives you easy access to secure end-to-end encrypted voice over IP calls. The phone comes with the strongest and most secure algorithms available today, AES256 and Twofish. It features a 4096 bit Diffie-Hellman key exchange with SHA-256 hash function, readout-hash based key authentication, and completely autonomous key generation with no pre-installed key material. Voice encryption keys are securely and immediately erased from the device after each call.

The CP20 also allows you to send and receive encrypted text messages. Messaging is based on the same strong encryption algorithms used for GSMK CryptoPhone voice encryption – 4096 bit Diffie-Hellman initial key exchange, AES256 and Twofish message encryption with 256 bit keys.

The CP20 comes with a hardened operating system with security-optimized components and communication stacks that protect the device against outside attacks.

Like all GSMK CryptoPhones, the CP20 features an encrypted storage container for contacts and messages that protects data at rest against unauthorized access.

The CP20 is very easy to use! It offers a modern graphical user interface in combination with a high-resolution touchscreen for absolutely smooth and simple operation.

The CP20 is fully compatible with all GSMK CryptoPhone IP secure mobile, desktop and satellite phones, including all GSMK CryptoPhone 400, 450, 500, 500i, 600G, 700, and IP19 series secure phones as well as GSMK CryptoPhone IP PBX Gateways.

The CP20 is ready for immediate use out of the box, with no need to install or configure anything. Set your password and immediately start to make and receive secure calls and exchange end-to-end encrypted messages with other CryptoPhone desktop or mobile phones. The CP20 can also be integrated into your organization's own private CryptoPhone infrastructure.
Request a Quote
Interested in a quote for the CP20 desktop phone? Just get in touch with us.